2nd Participatory Workshop - Montado Stakeholders Platform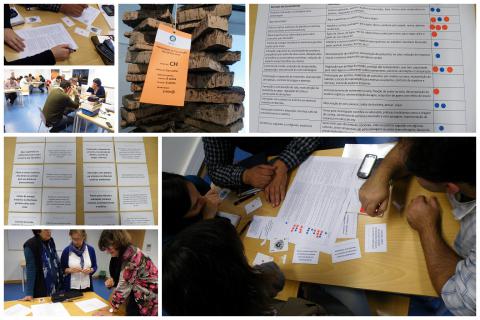 The montado exemplar of the OPERA project (http://operas-project.eu/) established a stakeholder's platform that includes landowners/managers, NGO's, governmental entities, municipalities, researchers, and associations of producers related to this landscape. By involving stakeholders we pretend to assess their needs and perceptions of Ecosystem Services (ES) provided by the montado and how they are willing to incorporate these services into ecosystem-based management plans. We thus envision to pro-actively promote an improved management that reconciles the use of biological resources with conservation goals in this cultural landscape.
In the 2nd of December this platform met up for the second participatory workshop in Coruche, Portugal.
During the workshop, the mediators presented several ES delivered by the montado and the stakeholders were invited to rank them according to their relevance in the actual moment. Stakeholders also chose the most plausible future scenario. Finally, they evaluated the trends of each ES in the chosen scenario.
Debate was much participated both within and between groups and a positive feedback was given by participants at the end of the day. Further workshops are being prepared.
Source: Inês Teixeira do Rosário, Post doc researcher at OPERA's Project